So i was throwing around some Halloween ideas with Ed, Paul, and Josh over the weekend. Here's what i came up with.
Now remember, these are very preliminary....
I will probably change them 3-4 times before next Halloween:
Dolly Parton or maybe the Muppet, Polly Darton (if i painted my face lavender and had a green clown nose)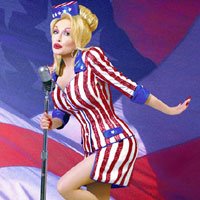 Magnum PI or maybe a Gonk Droid (really the best of all droilds)
Or maybe Mary Tyler Moore or Jerri Blank (this one's a tuffy....)
Any Ideas on your costumes yet?